Ritual Implements of Zoroastrianism (Alat)
NOTE: Many ritual supplies can be obtained from the FEZANA Zoroastrian Shop.
Zoroastrian ritual implements include:
Garments:

Sudre and kusti: Sacred shirt and cord (worn at all times except while bathing)
Topi (traditional skull cap generally worn during prayers) or scarf

Oil lamp with floating wicks ("kakras")
Incense burner (Guj. lobandan).
Incense:

Tradionally the ritual fire is fuelled with sandalwood (sukhad), but other sweet clean woods can also be used (Av. aesma)
Frankincense (bui or loban i.e. olibanum) is most commonly used as an offering, such as venerating the fravashis and ancestors. Myrrh is also sometimes used.

Parchment when used for writing nirangs (amulets), traditionally made of deer skin, but saffron-colored paper is sometimes substituted
Ink for writing nirangs is made with well water, colored with saffron
Consecrated or holy water
Padan (or padan; Pers. panam, 'mouth veil') tied over the mouth. Used to prevent droplets of spit from accidentally contacting the fire
Flowers are used during the ritual of blessing (afrinagan). Myrtle sprigs are sometimes used for this too.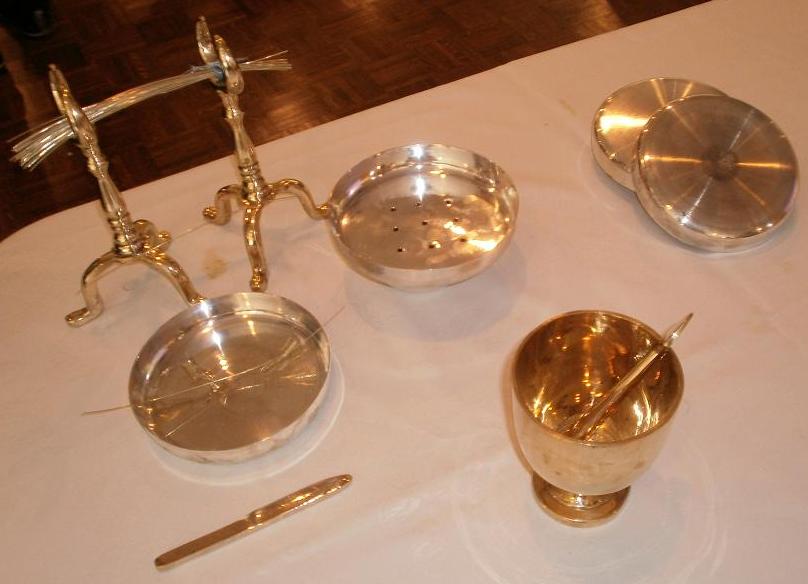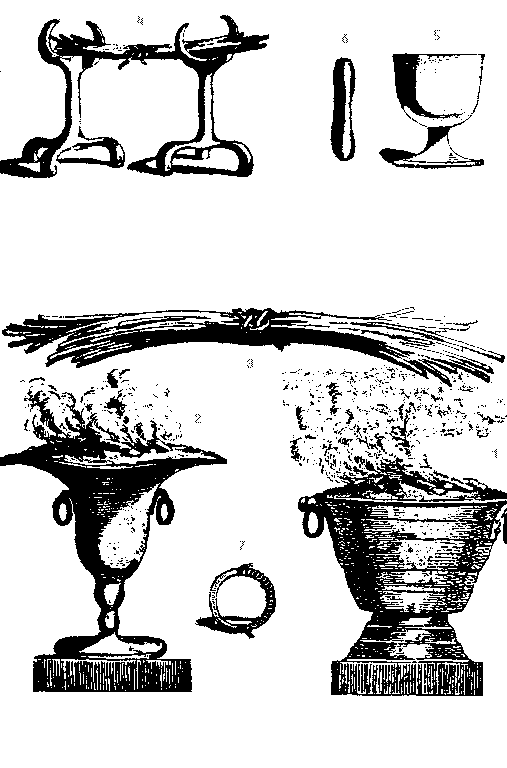 1. & 2. Afrinagans, metal vases for holding the ritual fire
3. Barsom (Av. Baresma), bundle of sticks, traditionally tamarisk or pomegranate (per Rivayats), typically held in the left hand during rituals. The numbers of sticks vary depending on ritual requirements.
4. Moon-shaped metal stands for holding the Barsom (Mah-Rui)
5. Cup for Haoma (Hawan)
6. Pestal for Haoma (dastag/abar-hawan/labo)
7. Ring tied with bull's hair (waras fuliyan)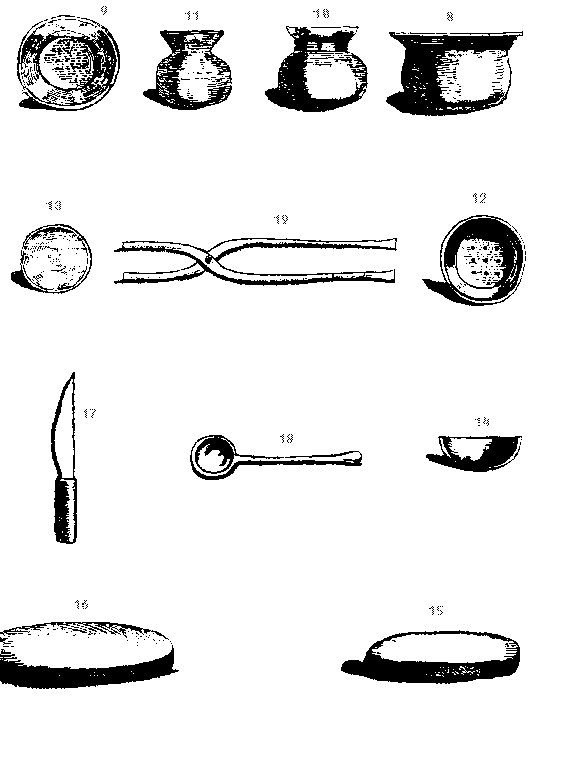 8. Vase containing water for purifications
9. Saucer
10. & 11. Vases for washing the hands
12. Nine-holed saucer (Surakhdar tasjta)
13. Bowl to hold ritual preparation, parahom
14. Cup of goat's milk
15. & 16. Saucers containing Dron (ritual cakes) (dron tashta)
17. Knife for barsom (barsom-chin)
18. Ladle for tending ritual fire (chamach)
19. Tongs for tending the ritual fire (chipyo)